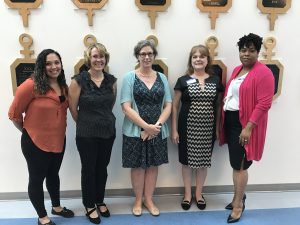 Council members pictured (left to right):
Keila Silva- Landscape Architecture & URP
Sallie Schattner, Council Chair – Construction Management
Michelle Matckie – Interior Design
Mary Kramer  – Architecture (not pictured)
Shelby Cruger – Deans office
Email address:    dcpstaffadvisorycouncil@dcp.ufl.edu
Mission Statement
The DCP Staff Advisory Council, is a group of staff members who will represent all staff employees from the College of Design, Construction and Planning.  The DCP-Staff-AC members care about their fellow co-workers and are here to hear your concerns and suggestions.
The DCP-Staff-AC is an advocate and a resource for the college staff to:
Promote Professional growth
Enhance communication between administration, staff and faculty
Promote community college-wide
Nomination Process
A member is nominated by a current DCP-Staff-AC member from the same department.  Nominated members are expected to serve two year terms.
New committee members will be nominated in September and will begin their term in January.
Architecture & Construction Management nominations begin September 2018, with terms starting January 2019
Interior Design, SLAP & the Dean's Office nominations begin September 2019, with terms starting January 2020
Distribution list

Do you sometimes need assistance when you can't find an answer?  Are you having a hard time finding information?  Do you need a quick bit of advice for that odd situation?  Are there times that you need an answer fast because you are in the middle of something?  Do you wonder if someone close-at-hand can help but don't know who to ask?
Reach out to your college co-workers via the distribution list:  DCPstaffQA@dcp.ufl.edu
Please keep in mind the following when using the distribution list:
Try to first find the answer yourself.
Always start a new questions with a new string.
Do not use the distribution list for other purposes or your co-workers will be less likely to assist when you need it most. (no advertising, personal announcements, etc.)
If you find something you find extremely useful in your job or some information that was hard-sought, please share your findings (use a suitable subject line).
K: drive:  Archived Distribution List and Common Jobs information
Archived Distribution List:
K:>College>DCPStaffAdvisoryCouncil>StaffAdvisoryQ&A>Choose your topic
Information obtained on our DCPStaffQA@dcp.ufl.edu distribution list can be added to the Staff Advisory Q&A folders.  There are separate tabs for each topic.  Let the Council know if you have information to add, or you can add it yourself to the Q&A folders.
Common Jobs Spreadsheet:
K:>College>DCPStaffAdvisory Council>Common Staff Duties List
For a common jobs spreadsheet providing information on different job duties and the individuals responsible for those duties in their respective units.
The council realized many Staff in the college have some job duties in common across the units but do not meet to discuss best practices or assist each other outside of their respective units.  Use this as a resource to reach out to your college colleagues that perform the same duties as you for information or assistance.